Holmlund Lock & Key provides a full range of lock and key services to its commercial clients. Whether you're a landlord or property manager who needs to ensure the security of residential properties, or the owner of a multi-story commercial building who seeks to upgrade the security of the locks and keys throughout the building, or just in certain restricted areas, Holmlund Lock & Key is your answer. Our highly skilled locksmiths and fully equipped custom mobile units are always at-the-ready to provide the kind of service Holmlund Lock & Key is known for.
Holmlund Lock & Key has been providing quality lock and key services since 1983. Our decades of growth and lengthy list of commercial clients are the result of our full-service-oriented policies, our insistence on perfection and offering commercial clients the very broadest range of lock and key services possible. Commercial clients quite often have very special needs or requirements for their locks and their keys. Often, our commercial clients ask for a meeting to discuss those special needs – something we are always available for. We want all our commercial clients to continue to receive the very finest solutions for their lock and key needs, and sometimes that requires a bit of discussion regarding the grades of locks available, master keying systems and so forth. Our locksmiths can help!
Locks and keys come in varying levels of quality that offer differing levels of security, reliability, capability and lifespan. Our locksmiths are familiar with the different types of locks and keys available and know how to help clients make the choices that best suit their particular needs. Landlords, who must frequently change residential locks, might prefer a less costly solution that allows for easy re-keying, while a high-rise owner, especially one with inordinate security concerns and lengthy leases, might wish to peruse the options on the higher end of the lock and key spectrum. Again, our locksmiths are fully trained and continuously refreshing and adding to their knowledge about the latest developments in the fast-changing world of locks and keys. This makes our locksmiths excellent sounding boards who are willing to assist commercial clients in making informed decisions regarding their specific locksmithing needs.
Following is a brief list of just some of the many commercial locksmith services provided by Holmlund Lock & Key. If you don't see your issue listed here, don't worry – just contact us and we'll make sure you're completely taken care of.
All Grades of Hardware Installation & Repair
Commercial Grade Padlocks
Creating Entire Master Key Systems
Filing Cabinet Locks and Keys
High Security Hardware
Lock-Based Access Control Systems
Mailbox Locks and Keys
Re-keying Locks
Resolving Lockouts
Restricted Keys
Safe Combination Changed
Safe Deposit Box Issues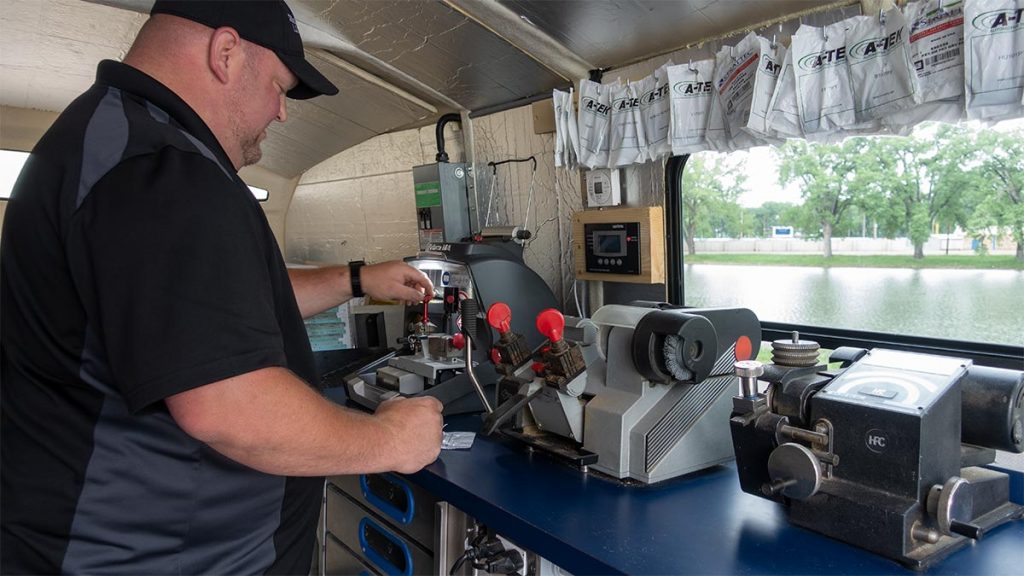 Lock-Based Access Control Systems