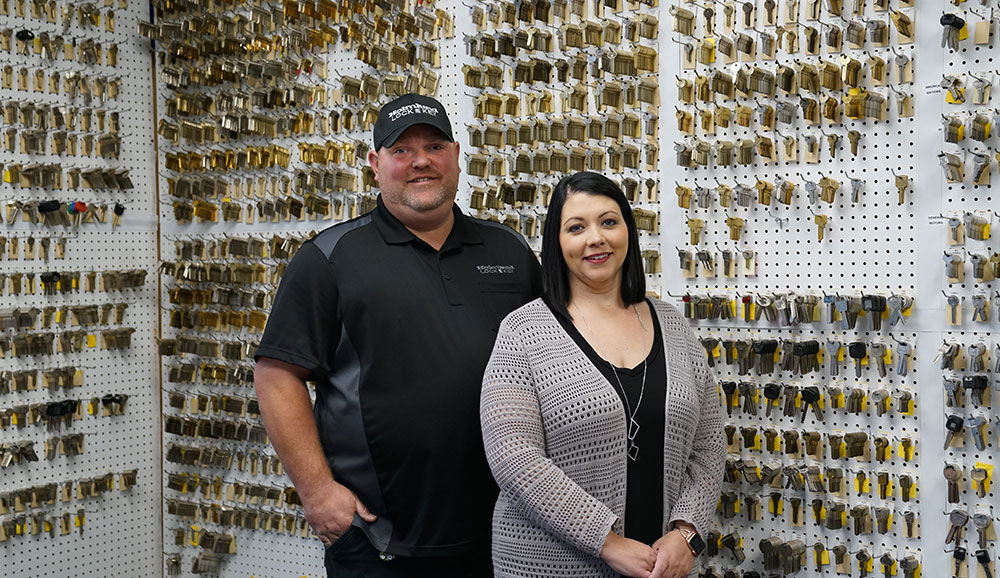 Holmlund Mobile Lock & Key originated in August of 1983 in Miles City, MT by Ken Holmlund.  Ken ran the business independently serving Eastern Montana until April of 2011. Today, Ken's daughter and son-in-law, Joni and Michael Hauber own the business. While Michael is out in the field, Joni is in the office.
In October 2017, Michael started service for Billings, Montana and surrounding area. Most recently, May 21, 2018, Michael and Joni purchased McCampbell Locksmithing of Red Lodge and now will be servicing Carbon County and those surrounding communities as well.
We take pride in our family owned and operated business while offering you a wide variety of services to all of our communities. With our level of expertise we can service residential, business, automotive, master key systems, access control and much much more.
Here us a short list of some of our clients:
Stockman Bank
First Interstate Bank
US Bank
Talon Energy/Colstrip Power Plant
BLM
Fish Wildlife and Parks
Miles Community College
St Labre Indian School
Fort Peck Tribes
Baker Public Schools
Miles City Public Schools
Scobey Public Schools
Glendive Public Schools
Forsyth Public Schools
Roberts Public School
Red Lodge Public Schools
Richey Public Schools
Holy Rosary Healthcare
Glendive Medical Center
Prairie Community Hospital
Fallon County Courthouse
Custer County Courthouse
Prairie County Courthouse
Lyrec – Lower Yellowstone Rural Electric Coop
Jackson Contracting Group
Tightline Design
Macs Frontierland
Notbohm Motors
Deluxe Motors Inc
Frank's Body Shop
Jacks Body Shop
Rolling Rubber Tire Factory
Milestown Propery Management
Miles City Housing Authority
AAA Red Lodge Rentals
Parks Realty
Miles City Hotel & Suites
Sleep Inn
ABC Glass