Need Mobile Locksmith Services Today?
We service ALL of Eastern Montana — Day or Night!
Mobile Locksmith Services available all over Eastern Montana!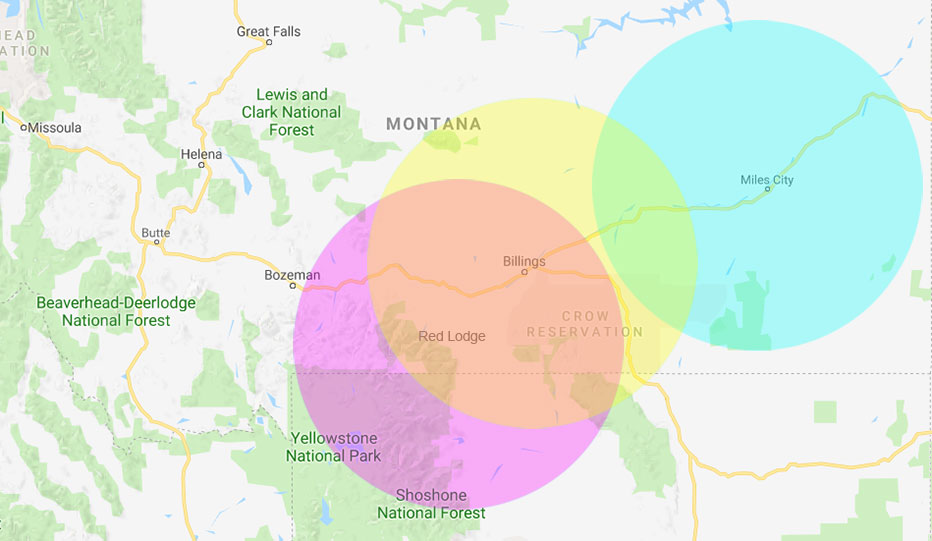 Serving Montana Since 1983
Holmlund Lock & Key service was started in the 1980's in Miles City, Montana. The original operating premise was a simple one: provide the very highest quality lock and key services to the residents of Miles City at fair prices. The reputation for quality of service grew quickly, as did the list of services offered. The list of Holmlund Lock & Key's services now includes such popular lock and key services as:
• Residential locksmith services
• Commercial locksmith services
• Automotive locksmith services
• Master Key Systems
• 24-Hour lockout service
• Access Control
As their sterling reputation for unparalleled service and expertise grew, so did the Holmlund Lock & Key service area. First it was ten miles outside of Miles City, then twenty miles, then fifty miles – and by the year 2000, Holmlund Lock & Key was getting regular calls from as far away as Billings. Needless to say, travel was becoming an issue – for two reasons: 1) it meant that the locksmiths could work on fewer issues every day and 2) the customers' invoices had to include travel, which lead to higher costs. Holmlund Lock & Key set about to eliminate both problems.
While there were many steps included in making Holmlund Lock & Key a more attractive alternative for both commercial and residential locksmith work in a much larger area, the four primary steps were 1) involve more family members with existing areas of expertise that supported growth; such as bookkeeping, scheduling and equipment maintenance 2) apprentice fledgling locksmiths to become highly skilled craftsmen able to tackle the most complex and demanding locksmith tasks 3) open service hubs throughout eastern Montana – thus reducing travel time, customer costs and providing faster service and 4) design, have built and fully equip the most sophisticated mobile locksmith vehicles possible. Holmlund Lock & Key now has Montana Service Hubs in Billings, Montana • Miles City, Montana and Red Lodge, Montana – all of which provide a complete range of mobile locksmith services entirely too lengthy to list here.
Holmlund Lock & Key has grown tremendously during these past few decades. And many changes have taken place during its phenomenal growth. But the one founding principle remains steadfast, and is the cornerstone of the business: provide the very best service at the very fairest price. This business philosophy is at the very core of every locksmith task performed by any of the Holmlund Lock & Key master technicians. Holmlund Lock & Key has grown almost solely by word-of-mouth in its commercial locksmith division, its residential locksmith division and its automotive locksmith division. Avoiding the need for costly advertising programs is a primary element of the Holmlund Lock & Key's attractive pricing.
Contact any Holmlund Lock & Key service hub using our secure contact form or by calling us at the following numbers:
Miles City: 406-234-6764
Billings: 406-234-6764
Red Lodge: 406-425-1386
We invite you to experience the Holmlund Lock & Key service difference. Count on Holmlund Lock & Key to fulfill any and all of your locksmithing needs. Use us once, and you'll quickly see why folks throughout eastern Montana depend on Holmlund Lock & Key to get the job done fast, done right and done at a fair price.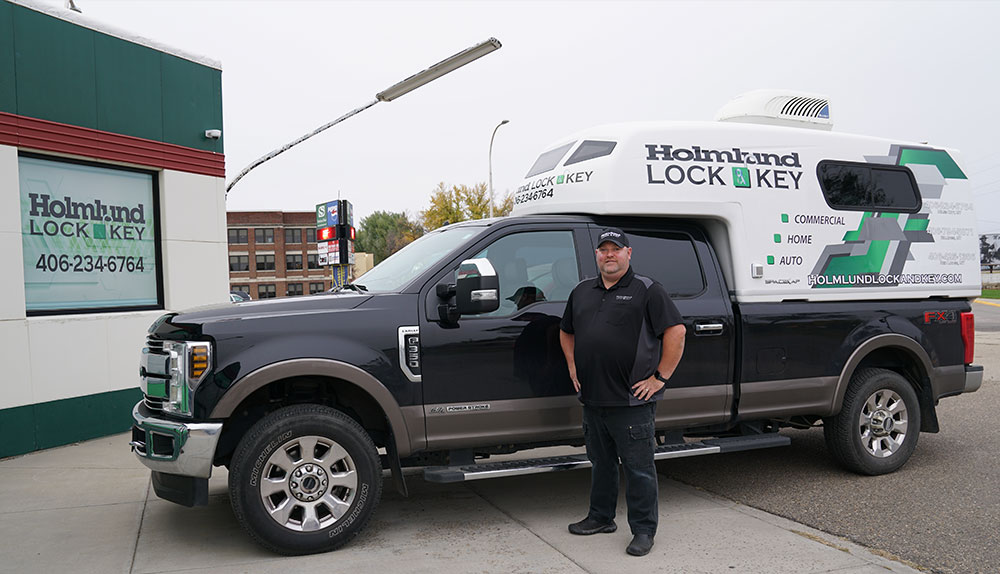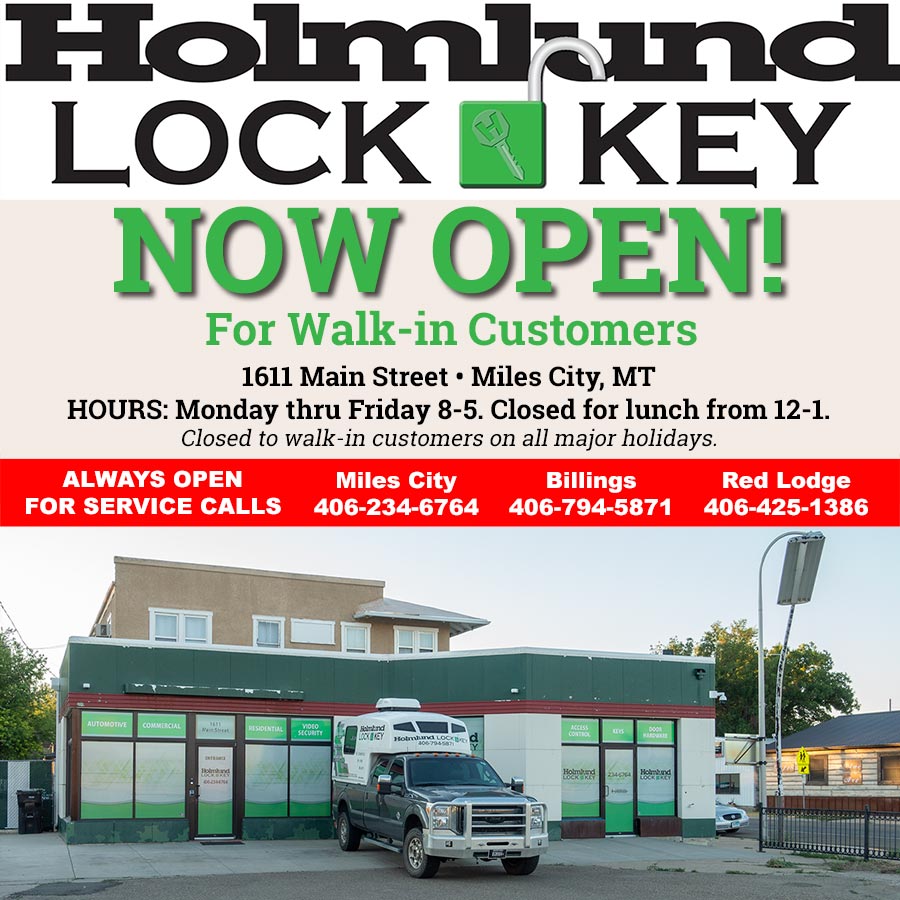 Testimonials from our Customers
Amazing people who really work for their customers. Awesome service, reasonable pricing, and all around great people!

Angela Conrad

Thank you for all the help in a unique situation at an odd hour. The prompt knowledgeable service was comforting and the technician was very professional. Thank you again for the help!

Nathan Mundahl

I just wanted to let my car run for a while on this cold day, after being buried and stuck since Thursday...well in all my shoveling and in and out, I accidentally hit the lock button and left myself locked out of my running car. He came over very quickly, got it unlocked AND even offered to help get my car unstuck!! Lucky to have this service here in Miles City!!

Kodi L. Malnaa

These guys are amazing!!!! I was in a bit of a crisis my son lost my car keys and where we were parked my neighbors were going to have my car towed for being in there spot and I had called different locksmiths and was told to call back on Monday and that I should have a dealership do it etc etc. Plus it being black Friday I was very thankful that they were willing to help. Thanks guys you saved my pocket and the day.

Means Lon

Locked my keys in my car while it was running! Called Holmlund and he was there 10 minutes later and got into my car super fast!! Definitely recommend!

Chelsea Kaye

Mike is definitely the most honest and professional businessman out there, couldn't get better service if you tried!

Danny Eugene